Welcome to the Official Site for Caroline Ognibene. You may recognize Caroline from one of her jobs for companies such as Oscar de la Renta, Party City and Saks Fifth Avenue. Here you will find all of the latest news and up to date information about this talented young actress and model. For Industry Professionals looking to learn more about Caroline, please click on her name above for an overview of information.


NEWS & UPDATES
27 Mar 2015
Happy Birthday!
It is a big day for Caroline's older sister Lizzie today! Not only is it the start of the weekend, and all of the fun that goes along with that, but today is a day full of
celebration
and excitement as it is her
ninth birthday
!
Happy Birthday Lizzie
! I hope you have an
amazing
day today with your family and friends as everyone comes together to make your special day one to remember. Enjoy cake, presents, and all of the birthday traditions that make your birthday one of your favorite days of the year. Being nine is going to be pretty awesome, a whole year ahead full of new opportunities and memories to make.
Happy Birthday
!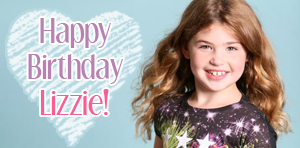 Posted by: Lisa
25 Mar 2015
Grand Opening!!
Welcome to Caroline Ognibene's
Official Website
! Here you will find all of the latest news, images, and media for Caroline and her career. Caroline has worked for companies including
Party City
,
Saks Fifth Avenue
,
Toys R Us
, and she will be seen in the Heather Graham film
My Dead Boyfriend
later this year. She can currently be seen for
Stage Stores
, and both the 2015 spring/summer and fall/winter collections for
Oscar de la Renta
!
We'd like to thank the
amazing
Sarah of
Serberry Designs
for our fantastic layouts for the site. A
thank-you
also goes out to
Bora Images
whose images are featured in the main layout, and to
Gina Kim
and
Yolanda Perez
whose photos were used for the gallery and guestbook designs. Don't forget to
sign the guestbook
, we'd love to hear from you!
To start off one of our many
fantastic
updates is Caroline's photoshoot with
Bora Images
! She shot with them at the end of 2014, doing some updated headshots, and her siblings Lizzie and Peter joined in on the fun for some photos just in time for the holidays. They all had so much fun shooting with Boris, who captured some
wonderful
sibling shots as the three were dressed up and full of smiles for the camera. Caroline's solo shots came out great as well, and you can really see how much fun she was having at her photoshoot.
Thank-you
Boris for a great photoshoot and all of the
fabulous
images of Caroline, Lizzie, and Peter!


Posted by: Lisa
<< Previous 1 2 3 4 5 6 7 8 9 10 11 12 13 14 Next >>